Getting Started packages
$120 Intro Flight    1 dual instructional flight
$270 Package   3 dual instructional flights
$400 Package   5 dual instructional flights
The small print: (Conditions)
All flights are up to 30 minutes – each with a licensed instructor. Tow height is 2000ft AGL. All flights in a package must be used by the same person (cannot be split). Each person will receive a Training Certificate personally autographed and presented in person by Mike Morgulis, CFI TSC after completing their pacakge
All packages include basic ground school lessons and an electronic copy of the SOAR training manual
More… on Club rates & Membership 
Experience the Magic.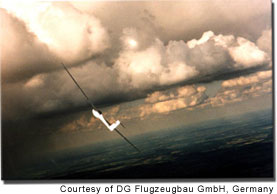 For many, soaring casts its spell after only a few flights. Perhaps it is the beauty of whispering wings. Maybe it is gliding among soaring birds; and knowing you belong. Possibly it is feeling the awe-inspiring power of natural convection currents that lift sailplanes weighing 1000 pounds or more at rates greater then 800 feet per minute. This is the sport where engines are replaced by the ability to understand and use the power of our restless atmosphere. Come experience it for yourself
Come for a guest flight or enroll as a student.
The soaring season in southern Ontario generally begins May 1, and lasts until approximately the end of October. The TSC operates on weekends and statutory holidays during the soaring season. Visitors are welcome to come and enjoy an introductory familiarization flight at any time we are in operation.
While spring offers the highest altitudes and strongest conditions of the soaring season in Southern Ontario, fall brings wonderful visibility and color. And summer provides the most stable, comfortable and reliable soaring conditions. See more on visiting us below.
The TSC gladly accepts new students at any time during the season. Instruction is free with either a probationary membership fee or the purchase of a ten flight training package. Qualified member instructors are on duty every day for training by virtue of the club environment.
Instruction is open to any individual who meets the age and medical requirements of Transport Canada. This means that soaring is accessible to both seniors and youths under 18. The only cost to a student apart from membership and instruction materials are tow fees and sailplane rental charges. Please see our membership, rates and fees in the club section of the website. See more on Instruction below.
Current membership in the club includes all age groups, from high school students, through to retired seniors. Members who are enrolled full time in high school or university pay one half the annual membership fee, all other flying fees are the same for every member.
gift certificate
Gift Certificates
We are please to offer Gift Certificates to any one who wishes to give the flight experience to a family member or friend. Please contact us to arrange for one to be provided to you. Click on the icon to request a certificate through e-mail, or contact us per the contact & location section.
Getting here
The TSC is located in the heart of Southwestern Ontario, between Toronto and the Bruce Peninsula. We are easily accessible of off Highway 89 between Shelburne and Mount Forest. Please check out our map in the contact & location section of the website. Allow for 90 minutes drive from Toronto.
Costs
Soaring relative to other forms of sport aviation is inexpensive. One can experience flying through soaring without a large investment whether just trying it for the first time or becoming a pilot all as the result of the volunteer club environment. Years of volunteer effort have given us a fully paid for facility and aircraft. Many of the large costs are shared by the members such as runways, hangars, new aircraft, insurance and maintenance.
Introductory flights at TSC costs $100 for a half an hour and achieving your license may cost less than $2,000. Our fees schedule is in the membership, rates & fees section of the website.
Preparation and expectations
Visitors need to be prepared for a full day. We recommend visitors bring water and lunch. You may likely have a waiting period for other visitors or traffic in the queue, so bring sunscreen and a chair if you like.
Instruction
Instruction can begin at any time. A duty instructor is on the field every day of operation and can begin your training immediately. In order to receive a license you will have to achieve proficiency with the sailplane's operation including take-off, aero-tow and landing, achieve a minimum number of solo flights under our supervision and complete a written exam with Transport Canada. Instruction is free but the student will have to pay for manuals, logbooks and any Transport Canada fees.
The amount of time it takes to get a license is dependent on the time the student can dedicate and the presence of good flying conditions. A concentrated effort can result in a license within a season!
Students are expected to arrive prior to commencement of operations (approx 10:30 am) and are expected to remain at the field until all aircraft are stowed away for the evening (approx 6pm). Soaring is a club sport and we require the cooperation of all hands on the field to run the operations.